I confess that I play a few games on my phone. I have a few card games, a digging game, a couple of word search games, a lost object game, and a parking lot game. OK, so maybe a few is not quite accurate. I have an early morning ritual in which I run through the list and play the daily challenge and use up my lives on my digging game and word search game. Then it is off to the rest of my day. I might on occasion call up a game during the day and will sometimes play a game while watching TV. Please don't judge me. It is just who I am.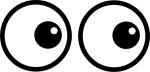 Through the years I have had to remind myself that I am not the consumer of TV, broadcast radio and the internet. I am the commodity being sold. It is all about my eyeballs and my debit card. Be it Facebook or Diggy's Adventure or June's Journey, I am the product being sold. Which means they need to have me look and look as often as possible. Show on TV don't get cancelled because they are good or bad. They get cancelled based on the eyeball looking (and often the gender and age of those eyeballs.)
In order to get my eyeballs on as many ads as the programs can they offer two things. They off lives that are limited and ways to get more. Or they offer "free" coins, keys, diamonds, or some other gem which I can earn through watching an ad for another game or other product. I was playing a game my granddaughter calls a baby game some time ago and saw an ad for BMW. I'm not sure of the return on that, but who am I. The name of the game is to entice me to look.