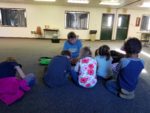 This is a picture of our 4 and 5 year olds. I enjoy my yearly adventure sharing crafts, games, snacks, and stories of Jesus with these kids. These kids are fun to interact with. Some are active. Others more quiet. Several we had last year while other are new. One of the qualities I especially appreciate is their acceptance, curiosity, and willingness to ask awkward questions. Well awkward for adults, for me.
One of our students, he comes just one day each year, is severely handicapped. I know his name but little more. He is in a wheel chair, doesn't speak, has breathing issues, and other challenges I don't even know. [I am not proud of that fact, but it is the reality.] This year he made is annual visit to class. Most of the kids gathered around him. They greeting him. They asked questions about his chair, what he could do and why.
It is that why question that I struggle with the most. It is a journey I have travelled for decades. In high school our youth minister had several of us pick up a young man in a wheelchair and bring him to youth group and church. He had a board to point at letters to communicate. He had dreams, noticed the girls, and loved sports as much as the rest of us. Just like us, except. . .
Around camp there is a young man who has some kind of handicap. He is the friendliest guy around. He encourages me even when I lack the patience and compassion I expect of myself. My niece works with Special Ed as does my friend Nathan. These are my heros, and my shame.
I don't know how to articulate how I feel. I suppose I have compassion but not enough. I have pity when that is probably not necessary and unwanted. Somehow I feel better from knowing special needs people. Yet I hate the phrase. I am the special needs person and they are helping me with that need. I find myself being judgmental. And I find myself questioning God. I am sure that God doesn't . . . Well I am not sure what He is doing.
And so this journey continues. Imperfect people helping this deeply flawed person deal with his flaws and let God deal heal him. I am who I am but not who I want to be. So these three men change me. These three men help me grow. I believe there will be a special jewel in heaven in their crowns.