This has been quite a week here in Zimbabwe. Monday was Sherry's birthday, and we went to a very nice place, hosted by our awesome friends next door. We had cake, and just a wonderful evening together.
The Good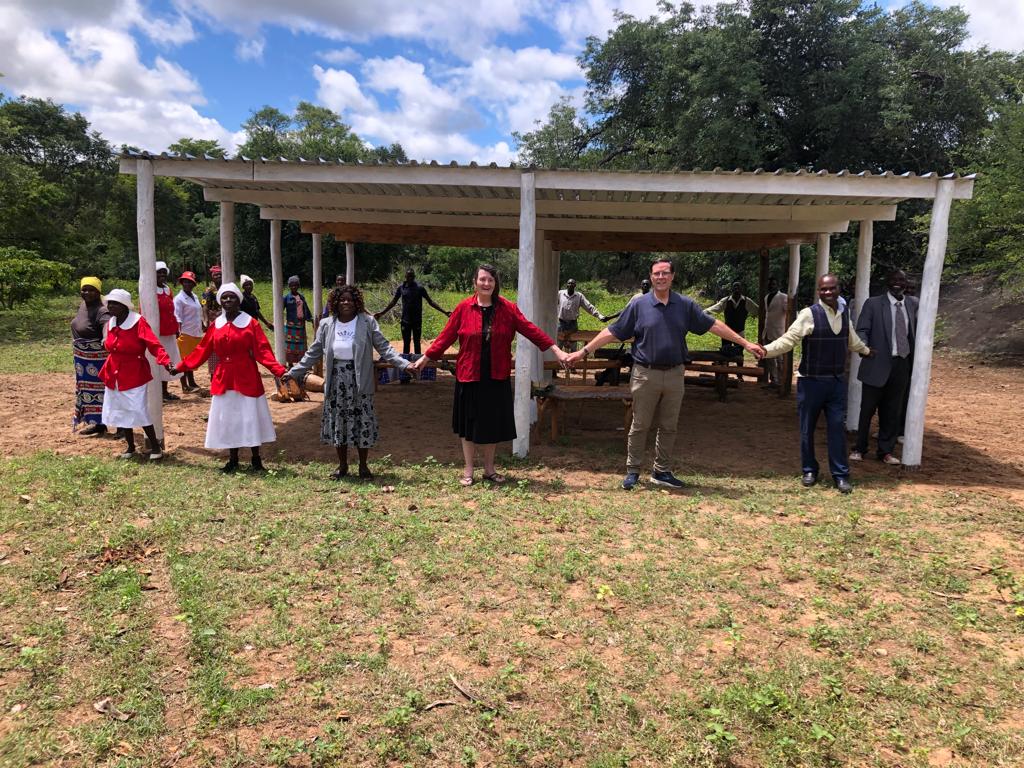 On Wednesday, we made a road trip, three hours South to visit Sagawri. It is a small church that Shelton Christian help build a shelter for. We were part of a dedication ceremony. About thirty people, most of them members of the church but a few visitors from the community were there. They sang songs, danced a bit, and made thank you speeches (Sherry and I sounded like super Christians). And it wasn't even us who did it. It was the great church family at Shelton Christian. There were prayers and laughter, handshakes, hugs and pictures. It was a fun day. We were given ground nuts (boiled peanuts,) some sugar cane, a watermelon (now we know where all the seeds from seedless watermelon are), pumpkin, and some squash. On the way home, we stopped at another church and pastor's home to pray for his wife. She is in Harare with gallbladder issues and may have surgery next week.
Yesterday started with an urgent call from our neighbor asking us if we could run to the village and get one of the girls take her to town for an appointment. We had ten minutes to get her there, an impossible goal but we made the effort, nonetheless. We ran to the village, got a worker, went and got the school, stopped and picked up another lady and headed to the appointment. After three hours the worker called and we reversed the process, except we took the lady home and skipped the school. I cannot say that was why I came to Zimbabwe, but ministry takes unexpected turns.
The Bad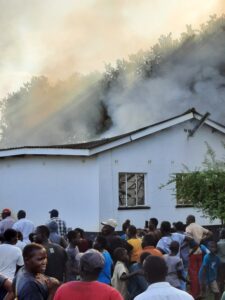 Then, a few hours later we got a text, "The preschool is on fire." It took a moment to decided what to do, but only a moment. We were headed off to the village to assess the situation. As we headed out, we could see the black smoke from quite a distance. We knew then that it was bad. So often, when we are in a hurry, the world around is not. And this was just such a moment. As we approached, the road, driveway, and gate were filled with people. Once through the gate we say a mob of people, many from outside the village, workers, ministry staff, and kids standing and watching. A firetruck from the local airport was there and they were fighting the fire. The building is totaled. All three pastors from Chiredzi Christian Church, where Sherry and me attend most the time, were there. I am one of them, helping out while here. The scene was beyond believe. My mind took my back to our house fire in 1990. It was the low to balance Wednesday's high. There is so much to do and so many decisions to be made by the ministry here. It will be interesting to see how God works his wonders.
The Awesome
This morning we awoke to reports of the generosity and our friends, family, and their churches. In a few moments, I am headed out to collect some of the money that has been donated to get some food for this week. I am simply blown away by how much and how fast it came. I don't know why I am surprised, I know my God, my friends and family and my church. God does work in wondrous ways.