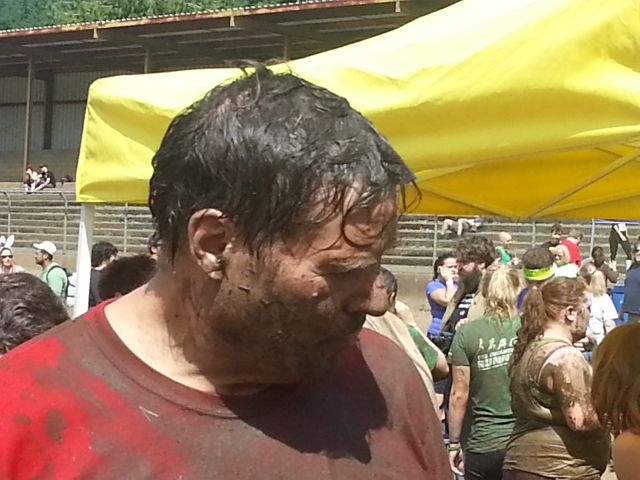 On Saturday, as many have seen on my Facebook, I did my first mud run. For those who don't know about mud runs, they are an excuse to get some exercise, and get dirty doing it. I have done lots of fun things in my life, and this is right up there with any of them. I had so much fun that I am doing another in July (more in a bit on that).
It is hard to describe what we went through in the 3.1 miles of the dash. There were ponds, hills, tubes to crawl over, and thru, a slippery slide, moguls, walls, and mud. Lots and lots of mud. This is the dirtiest I have ever been. I confess that it was hard. I never wanted to quit, but I was feeling it. My knees are scratched up and bruised. I have a few sore muscles (though not as many as I expected or others had). The bottom of the slippery slide was a thud. And there was a mud pit that had little air cannons that shot globs of mud at us, some of which found my eye. My nose was running and I had no way to wipe it, sweat was in my eyes and only muddy hands to deal with it. At one point some of our fellow runners decided that we (Jeanne, Becca, and I) were too clean and accosted us. Others were throwing mud at each other, but we were collateral damage. Wet, sore, muddy, dirty, hot, cold, all the things we try to avoid in our daily lives were part of my morning.
As I think about our spiritual journeys, I find some parallels to my mud run. There are seasons of spiritual mud runs. We are hard pressed, life gets messy, people through mud, sometimes at us, sometimes just around us but it still finds us. We are sometimes blinded, sometimes stumble, and more than once need a helping hand over and through obstacles in our lives. I fear too often we pray for mud free days. Yet, I suggest that it is the muddy days that make us strong. If and when we have made it to the end, these will be the days of praise by the Father, and days of personal victory. I also fear that we are often to soft, not willing to do the hard things when those are the best things for us. So let's get muddy.
I have linked a couple of videos for you to see if you want. Like I said, it was fun. And I mentioned a July 20 mud run. That one is with World Concern and supports clean water projects. I want to encourage anyone who is interested to join us for a great cause, and a little fun.