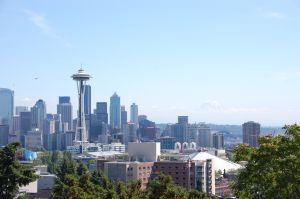 Last week, Sherry and I made a trip to Seattle to give a couple of reports on our Haiti trip in August. We started with a noon meeting at West Seattle Christian Church. WSCC is where we married, 41 years ago. That church was also part of our courting days. Some funny stories relating to our getting together happened around that place, that is another story, however.
Our second report was a 7:00 report at Mountlake Terrace Christian Church. That place, while not so much a big part of our lives, is a place of memories. My parents went to church there, and mom continued after dad passed away. We have had many friends in that church. We appreciate their support of the deaf ministry in Haiti.
If you did the math, you will see that we had some time between those appointments. As a result, we took an afternoon journey. Instead of the freeway, we went up Highway 99, First Ave in Seattle, and 15th NW through Ballard. We returned to 99 in Shoreline and on to Mountlake Terrance. It was the slow boat to China, as the saying goes. These roads have been the haunts for many memories that we share together. The college, Puget Sound, was on the hill above Ballard. Sherry and I walked the sidewalks there many times. We went to the locks, shopped in the market, and ate ice cream at a quirky little ice cream shop on 45th. I first met licorice ice cream there. When the college moved to Edmonds, after I graduated, we did masters classes there and I taught for a while the first few years we were ministering here in Shelton.
I knew Seattle fairly well, or at least Highway 99, First Ave, and 15th NW. As we drove around, things looked vary familiar. There were businesses that were/are still the same. Building have been painted, but have a familiar look. Then areas have changed so much that I wondered if I were in the same place, it was totally unfamiliar. One of the challenges was being on the right road, in the correct lane, or coming around a corner and being in a different place than we thought we were. At one point, I said, "I think we are coming out in Ballard." We discussed it, and sure enough, though were thought we were coming out a little east of there, it was Ballard. At one point, as we were returning to 99 in Shoreline I turned left. However, we had crossed 99 and a left at that light meant were were going south. We needed North. My car has a built-in compass. It was right, I was wrong. It was a pleasant day, spending a few hours with my love, seeing the old haunts, and new places.
As I think about our journey through the kingdom, I am reminded about both the joy and the danger of the familiar. So much of God's word is familiar. So many songs that we sing are familiar. There is a joy we experience when we encounter them. Then again, because they are so familiar, we assume things that are not quite accurate. It seems right, so we turn, only to be headed the wrong direction. We know the words, oh, wait, I forgot the second verse. The familiar is comfortable, filled with memories. Sometimes those familiar things keep us from experiences and learning the new. One of my favorite New Testament words is that one, 'new.' We have new life, no bodies, new songs, new joys. I love the past, or what I remember of it. But I want to be careful not to let that love for the past keep me from the new things God has in mind.